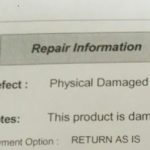 My phone is 5 months old. I bought a Nexus 5x last April on a whim while on vacation in Florida. The glass cover on the rear camera of my Nexus 5 had a crack after I dropped the phone, and I just could not take the lousy quality of the photos anymore.
At first I was very happy. The 5x is a bit too large for my liking, especially when I try to get in and out of the car with the phone in my front pocket, but I can handle it. I took good care of it, got a glass screen protector and a decent case, and nothing really bad ever happened to it. 
When I was on vacation in Europe in July, I started to have a few issues with charging. The display either says "Charging", "Charging Slowly", or "Charging Rapidly". I did not bring the original charger with me, just aftermarket USB-C cables and adapters, and charged in the rental car, or from my laptop. Sometimes I used one of the kids' iPhone chargers. This became very unreliable. On some mornings the battery was dead, sometimes it would be fully charged, sometimes it was somewhere in between. But every so often the phone mysteriously would not charge, even though it was plugged in.
When I was back home, I cleaned the connector with compressed air and applied DeoxIT.  I started using the factory charger and cable again, and there has never been an issue with that.
Then the Nougat upgrade came along, and I had to publish a new version of my Android app, TripsNMiles. I migrated my code from Eclipse to Android Studio, which was overdue, and tried to debug the app on my phone. I never liked using the emulator because I use VMware Workstation and this software is not compatible with HAXM, the hardware emulation, and the emulator runs really slow on my machine.
It turned out, that wouldn't work. None of my computers recognized the phone when it was connected via USB.
I played with this for hours, Googling, reinstalling drivers, trying different cables, different computers, and in the end, a different 5x. Another phone worked, mine didn't. So, I concluded, there must be something uniquely wrong with my phone, possibly a hardware defect, possibly a software issue, possibly related to the charging issues, or entirely unrelated. A visual inspection of the USB port with a good magnifying glass did not reveal any clues. So I requested an RMA number from LG and sent it in for a warranty repair. After all, a developer phone that cannot be used for development is of no use.
About 4 weeks later, I was able to take possession of my phone again on the 3rd delivery attempt by Fedex. Fedex seems to be doing everything they can to make customers miss their deliveries if a signature is required, but that's a separate story. I opened the box (not the original box of the phone that I had shipped it in, but some brown nondescript cardboard box). The original packaging is gone now.
In the box, I found this note:
I was incredulous. After a bit of searching online, it became clear that this is a common response, and that LG does not repair phones if the water senor has been triggered. But why would the water sensor in my phone have been triggered? It never got wet. It was certainly exposed to moisture, for example when I run and I carry my phone with me in a neoprene arm strap. There is always condensation in the pouch from sweat. Or when I had it on a handlebar mount on my motorcycle and got into a rain shower during a formation charity ride. It was protected by the windshield but saw a few drops of water.
I wanted to know with certainty. I no longer had to worry about voiding my warranty, so I opened the case myself. Indeed, the water indicator above the battery was red.
So, unless the LG service person intentionally put water on the sticker to be able to reject a repair on the grounds of water damage, this phone model will have a red sticker, even if it never was submerged in water. I tweeted to @LGUSAMobile an angry question that remained unanswered.
I learned a few things from this.
Either the LG Nexus 5x can have the water damage indicator triggered from normal use. or
LG service will trigger the water damage indicator so that they have a reason to deny a repair
LG will refuse to repair or replace a phone under warranty if the water damage indicator was triggered
The Nexus 5x USB-C connector is a trouble-maker
Without being able to deploy to the phone and debug Android apps from Android Studio, I don't have a choice but to soon replace this phone. I will most certainly not replace it with an LG phone. Nor will I ever again in my life purchase anything else from LG. Unfortunately, the Pixel is a bit more expensive, and am hesitant to spend well over $1,000 in one year on cell phones for myself. Maybe I can live with this piece of junk until January.