My last computer, purchased in January 2006, was a barebone kit from TigerDirect based on an Asus P5NSLI motherboard and a 3GHz Pentium D dual core processor. I added 2 XFX GForce 7600 graphics accelerators with SLI. It was reasonably fast back then and still is today. I am not a notorious gamer, but knowing that some of my older titles will run well is important to me.
So I decided to upgrade. The one thing that bothered me most about my 2006 purchase was that it was so noisy. The stock fan for the Pentium D was the only fan in the case (aside from the one in the power supply), and it contributed to 99% of the overall noise level. I just never got around to replacing it, but it bothered me enough to vow to myself that I was going to do a better job this time.
But how do you do that? Unlike in Europe, the major online retailers here in the US don't publish any data about the noise that their computers generate. If you want a quiet PC, you are on your own. Sometimes online reviewers will leave clues about whether a particular model is noisy or quiet, but that's about it. I did not want to take a chance.
Help came in the form of an article in the world's best! computer magazine – the German C't. In the 2/15/2010 issue, an article titled "Gaming Power Galore" (my own translation) featured recommendations for one AMD and one Intel-based quiet, yet powerful gaming PC for under 1000 €. I went for it and decided to build the Intel platform for under $1000 (I missed my goal by a few dollars).
After some quick price checks for the core components I ended up on Newegg,com. Unfortunately I did not get the exact same configuration. The original setup included components from Be quiet!, Revoltec, and Sharkoon, which are all German brands that do not cater to the US market. I substituted the case, the hard disk enclosure, and the PSU with equivalent components that were available at Newegg at a similar price (see the table below). For the CPU fan, the Samsung HDD, and the Quiet Drive enclosure I had to venture to Ebay (neither were available on Newegg.com), which drove up the overall shipping cost a little.
| | | | | |
| --- | --- | --- | --- | --- |
| | C't | | DDDoD | |
| Processor | Intel Core-I5-750 | 158 € | Intel Core-I5-750 | $199.99 |
| Motherboard | MB MSI P55-GD65 | 127 € | MB MSI P55-GD65 1156 RT | $114.99 |
| Memory | 2×2 GB DDR3 PC3-10600 | 78 € | 2x2GB KST KVR1333 DDR3 | $107.98 |
| HDD | SAMSUNG SPINPOINT HD103SJ 1TB | 69 € | SAMSUNG SPINPOINT HD103SJ 1TB | $87.64 |
| DVD | LITE-ON IHAS124-04 | 28 € | LITE-ON IHAS124-04 | $26.99 |
| Case | Revoltec Sixty 2 | 44 € | Cooler Master RC-534-KKN2-GP | $54.99 |
| Heat sink/fan | Scythe Samurai ZZ | 20 € | SCYTHE SCSMZ-2000 SAMURAI ZZ | $26.99 |
| HDD silencing | Sharkoon HDD Vibe-Fixer | 13 € | Scythe Quiet Drive | $15.00 |
| Case fan | Sharkoon Silent Eagle SE 120mm | 13 € | n/a (Cooler Master case ships with 2 fans) | |
| Card reader | Silverstone FP35 | 22 € | n/a (not needed) | |
| OS | Windows 7 Home Premium | 75 € | n/a (not needed) | |
| Graphics | Radeon HD 5850 | 260 € | HIS HD5850 1G Retail | $339.99 |
| PSU | Be quiet! BQT L7-530W | 50 € | Zephyr 580MX 580W | $64.99 |
| Shipping | | 25 € | | $35 |
| Total | | 982 € | | $1074.55 |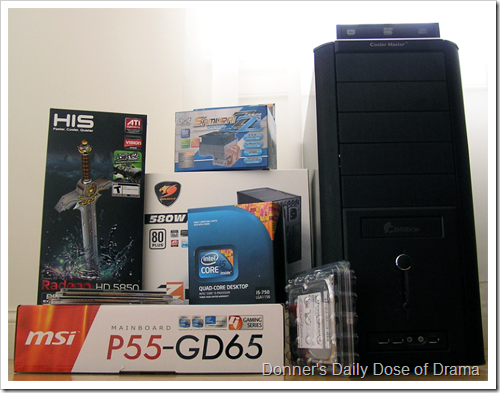 One thing to note is that most high-end CPU coolers have vertically mounted fans – such fans create an airflow across the motherboard (towards a rear case fan, for instance). My case has a CPU air intake on the side that I wanted to take advantage of – hence the Samurai, which is less dramatic in appearance, but has a horizontal fan that creates an airflow perpendicular to the processor and motherboard and works well in my configuration.
Putting everything together is more or less routine. The objective of this post is to provide purchasing advice, not to provide a build-your-own-pc tutorial, so I will skip this part. Here is what it looked like towards the end: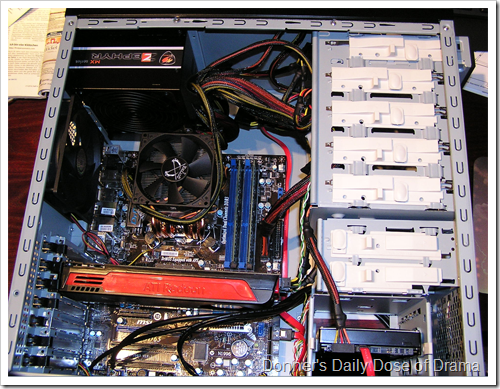 Note that the CPU fan has an unobstructed path for the incoming air flow into the heat sink. The hard drive is not in the Quiet Drive enclosure yet, which arrived a few days later. I added 2 more disks in a Raid configuration that are also not shown in the picture.
So, now that the thing is put together, how does it perform? Pretty well, I think, and so does Windows 7. On a scale from 0 to 7.9, I am getting:

It looks like the hard disk is slowing everything down, when in fact it is not. To put the 5.9 score into context, here is the experience index from my Lenovo T410 with a Core I7 processor and an Intel SSD:

The same build of Windows 7 Enterprise is running on both machines, so the underlying metrics have to be the same as well. Apparently Windows 7 thinks the Samsung disk is as fast as an SSD!?
The thermal situation is on the cool side, where we want it to be. I had perpetual problems with the Pentium D and the heat sink for its LGA775 socket, with temperatures up to 70C (deadly for any processor under normal circumstances). Not so anymore. The 2 case fans are quiet, and the Scythe Samurai does its job very well. It is not quiet, but it is much less noisy than the old system that I am replacing. There is just no way to completely silence a CPU fan running under an intake opening on the side of the case.\
The disk is cool as well, despite the fact that the Quiet Drive enclosure is very tight and allows no ciculation at all.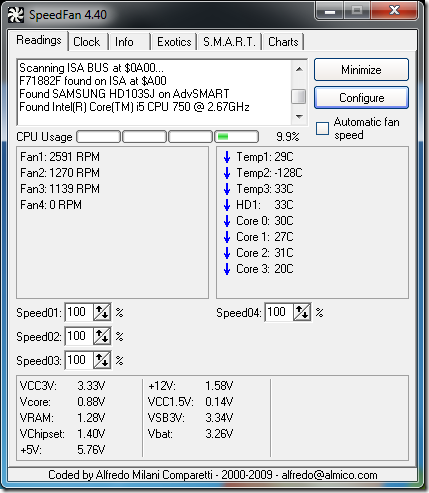 The above screen shot is from an idling system, with Outlook, Excel, a few browsers, and Windows Live Writer running, which I use to write this blog post. Temperatures throughout the system are around 30C, which is perfect, and if I wanted to, I could push it a little and play with the many over-clocking features that the MSI board came with.
Oddly, SpeedFan does not seem to recognize the HD 5850 graphics accelerator. It did show the temperature of both GForce 7600 cards in my old system. The last screen shot below shows the temperatures of the cores while playing Need For Speed for a while. They creep up to 40C, but flatten out at that level.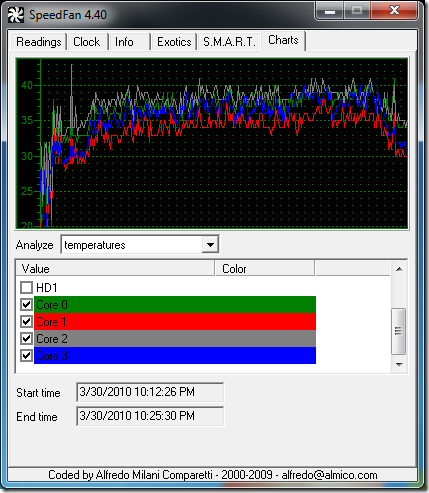 I don't have any Direct-X 11 games that I could test with – other than Dirt 2 that came with the HD 5850, but the combination of having to register both with Steam and Windows Live, and the inability to save game progress locally without an Internet connection, are strong reasons not to install it.
All in all, I built a very fast and (for a gaming PC) reasonably quiet system that did not cost the world. I recommend this configuration.