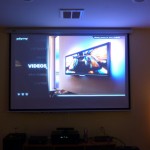 Part I – XBMC Live
About 6 years ago I purchased my first media player – the then newly launched Pinnacle Showcenter 200. It was an exciting new device with countless possibilities. It helped define a market that previously had not existed. Alas, Pinnacle's acquisition by Avid in 2005, the ensuing lackluster support and product management, and the absence of continued R&D that could have propelled Pinnacle to market leader in this space meant that Avid's management lacked vision – the vision that these devices showed the way how we were going to consume video and audio content in the future. Or maybe they saw it, but did not want to be part of this change.

The ShowCenter had its weaknesses (actually, lots of them). It was slow, and the support of container formats and Codecs was limited. In the summer of 2008, Syabas released its Popcorn Hour A-110, an improved version of the initial A-100, and I ordered one to replace the then aging Showcenter. The Popcorn Hour had much better Codec and container format support (DVD ISO, for once, which is my storage format of choice), HDMI output (although back then I did not have an HD TV and did not even know what HDMI was), and a user interface that appeared far superior to the Showcenter). But it was still slow, crashed a lot, was clearly not made for managing or listening to large music libraries, and most annoyingly, did not have a power switch, which meant it was powered up 24×7 unless I pulled the plug.
So I kept looking for a better alternative. Syabas launched the A-210 and the A-300, but I did not think that either was a revolutionary step forward from my A-110, so I stuck with it. Competitors arrived in the market space (and, in some cases, disappeared again). Nothing seemed good enough to replace my Popcorn Hour.
So, routinely I would give up on plans to upgrade. This repeated itself once or twice a year. I became frustrated that in this revolutionary consumer product segment no real innovation was happening for 3 or 4 years in a row. I began to doubt that streaming content from a home server and the web really was the future. A Wii, then an XBox 360, then a PS3 were added to the network. Nothing could fully replace the Popcorn hour.
The XBox got close, with a Media Server Extender and MyMovies running on my desktop. The solution required that ISO images are mounted remotely on the Media Center Server, and I did not have the hardware for a server that was powerful yet energy-efficient enough to be running all the time.
In the meantime, digital terrestrial TV replaced analog broadcasts. My viewing hardware became obsolete, and the infrastructure in my house received dramatic upgrades with a Gigabit network, full-HD flatscreen TVs, two rooms wired and equipped with Dolby 7.1 entertainment systems, and a NAS with an 8TB Raid array that provided ample storage for more content. In short, the Popcorn Hour looked increasingly old. When I installed an HD projector in my basement, I used my old Asus EEE laptop to stream movies (using WinDVD) and watch online content (Netflix etc). It worked, despite the low-end hardware and the analog audio connection, and was definitely more fun and flexible than the Popcorn Hour upstairs.
In comparison, other ready-to-use consumer devices on the market appeared years behind, and in late 2011, I still could not find a device that supported audio and video content equally well (both in the UI and stream delivery), integrated with online services/content, could play ISO images, and was affordable. To permanently replace the EEE netbook in the basement I decided to build my next device myself.
I settled on a Zotac ZBOXHD-ID40-PLUS
  (Atom D525 1.8 GHz Dual Core with NVIDIA ION) for no particular reason, other than the price and decent reviews on Amazon.com. Also without a lot of reearch, I installed XBMC from a Live image that I had copied to a USB drive.
Together with the XBMC remote on an Android tablet, this represents a quite attractive solution. The UI is responsive, browing the music library is actually fun, it plays all my content flawlessly, and with the remote app, I can control the ZBOX and play audio content without having to turn on the projector. Unlike the Popcorn Hour, XBMC lets me browse the library while a song is playing. The Popcorn Hour never could do that, which meant that the music was stopped while you were looking for the next song.
I also love the many plugins. For German-speaking expatriates, the Mediathek plugin is particulary interesting. It offers access to the online content of many German-language public broadcasting corporations, like ZDF, ARD, and ORF. This is not perfect, but it works and the video quality is surpringly good.
One limitation of the XMBC Live installation is the lack of Netflix support (because Silverlight with digital rights management is not supported on Ubuntu). Apparently this can be overcome by installing XBMC on Windows, which is what I will do on a 2nd ZBOX that I just ordered that will replace the Popcorn Hour upstairs.
Part II – XBMC on Windows 7
My 2nd ZBOX arrived last night and I installed Windows 7 Ultimate with XBMC right away. It either does not have the issue with the power button always being red, or this is tied to turning off the blue ring in the BIOS). I also got a Hauppauge USB TV Tuner to complete the Media Center experience. One thing I noticed right away is that the user interface of XBMC under Windows is much more responsive (I admit it, I installed version 10 Dharma of XBMC Live and version 11 Eden on Windows, which could explain some of that). However, what was supposed to be a formality (replicating my XBMC setup on Windows, with the addition of Live TV) did not go smoothly, and I am no longer sure I like XBMC.
How come, you ask? XBMC does not support Live TV by itself. You have to install a TV server backend. A special PVR (Personal Video Recorder) build of XBMC is required that has support for Live TV. The only option available for the backend on Windows is MediaPortal (ForTheRecord would be an alternative, but it appears to be geared more towards Europe and is not yet integrated with the PVR build of XBMC). MediaPortal comes with its own full-featured media server. Then I had to install a plugin for MediaPortal so that XBMC can connect.  Unfortunately, when I try to activate the MediaPortal add-on in XBMC, it does not connect and just displays an error that no add-on is active. It is still in beta.
So, in order to watch Live TV, I have to use the MediaPortal server. It is not as nice as XBMC and I don't think it can be extended to stream ZDF MediaThek content.
Windows Media Server does not require as much tweaking. It has much better Live TV support out of the box, and the programming info is complete and current. But my installation crashes with my Hauppauge TV Tuner for reasons yet to be determined. So now I have 3 media server solutions to choose from and neither one does all the things I want. More work ahead.
And then there is the pesky overscan problem that seems to be common with Nvidia GPUs. The ZBOX is connected to a Pioneer Elite receiver via HDMI, and the Samsung LCD is connected to the receiver via HDMI as well. I turned video scaling off on the receiver. Windows running on the ZBOX produces overscan of about half the size of the Windows task bar (meaning that this much is cut off around the edges), which is very annoying. I can switch the Samsung TV to "Just scan" mode, which worked until the first reboot. Then the display was no longer centered, which was even worse. I have not found a way to fix this in the NVidia drivers, either. Windows Media Server can be configured to output in "TV" mode, which scales down the picture and eliminates the overscan, but I still have this problem with the desktop and, more importantly, in XBMC and MediaPortal. More work ahead, still, and it appears that XBMC will not be my last media player.