Due to a sudden spike in traffic on my blog, I spent more time than usual with Web Analytics tools lately. There is quite  a discrepancy between the numbers that Awstats reports and what Google Analytics and Woopra think. Awstats is a tool that most low-cost hosting providers include in their service offering.
This post is meant to illustrate the differences in the number of visits and number of page views reported by the tools. I did not research why there are discrepancies, but the large differences between Awstats and the other tools can be explained by search engine crawlers that Awstats includes in its report, the others don't. I suspect that Awstats may also count hits from image hot-links to my site, where no actual content is served.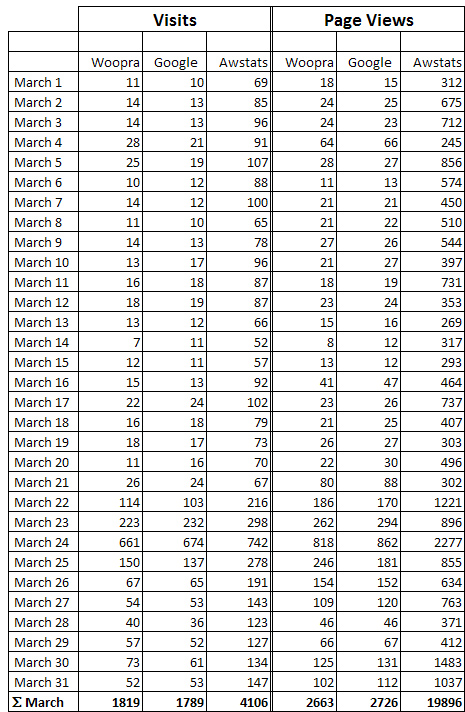 Because a picture is worth a thousand words, here are some:
There is no easy way to eliminate search engine activity from the Awstat report. The large "error" makes the report rather useless, in my opinion.  Awstats reports nearly 10 times the number of page views that Woopra has. This is not insignificant.
Because Woopra gives me information about each individual visitor, it is possible to reconcile the Woopra numbers against the raw web server logs. This exercise could theoretically provide some insights as to why the Google and Woopra numbers are slightly different. Interestingly enough, they are off in both directions (compare March 10 and March 25, for instance). I don't have that much time on my hands, unfortunately :-).