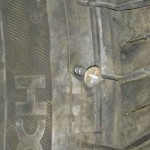 Over the past 4 or 5 years I spent thousands of dollars on replacing tires on our cars because of drywall screws in the sidewall or bolts stuck in the tread. Usually, a tire that was damaged in this way cannot be repaired, and unless the tires are very new, it is necessary to replace at least two of them, sometimes all four. This started to happen after we finished our basement, and for some time I used to find screws in the driveway. But the driveway is short and clean and screws get noticed, so I never believed that screws managed to lurk in the driveway for months until they were able to attach themselves to a tire. I much rather believed that someone was placing them there. I installed a driveway alarm and notified police after the 3rd time or so, but never caught anyone and never got to the bottom of what is causing this ominous series of coincidents. Luckily, the tires that had to be replaced were always closer to the end of their life than to the beginning and would have had to be replaced anyway at some point, but still, this is annoying, and it keeps happening. Just last week I had to order two new front tires for my wife's C300 because one of them had a screw in it and air was leaking out slowly, at a rate of 10 PSI per day. The cost of two new Michelin Pilot HX MXM4 225/24R-17 was $360. The old tires probably had 10,000 miles left (the car has rear wheel drive and the front tires wear at about half the rate of the rear ones). As you can see from the picture, the screw penetrated the sidewall about 1/2 inch above the ground on the inner side. I am having a hard time imagining how this can happen from driving over it when it is flat on the ground. The car is garaged and had not been parked outside the house during the time frame in question, but she did go to work and to the mall that day.
I have 3 possible explanations.
a. This can indeed happen from driving over a screw, i.e. driving over the head with the edge of the tire can get the screw pushed up and into the sidewall. It seems unlikely. I will try this with old tires on another car. There is no unusual concentration of construction activity in my neighborhood. If this is the case, it could have happened anywhere, and we just have really bad luck.
b. Someone maliciously places screws standing up on their heads in random places on the road. If this is the case, I would suspect someone in my neighborhood, based on the mere rate of incidents that I am seeing on our cars. Then other people in my neighborhood should have this happen them as well. I have not heard any such reports.
c. Someone targets us directly and maliciously places screws underneath the tires of our cars when they are parked. This seems quite unlikely because two of the three cars are always garaged, and because it has affected different cars.
I am posting this story because I am curious if this happens to other people as well at this rate. When asked this question, the people at the shop who install my tires just shrug. So far I have not heard of someone else who experiences tire failures at the same rate as we do. It is always drywall screws, never nails.
Update: 4 weeks later I found a bolt in one of the brand-new front tires of the same car. This time it was repairable, but this is not funny anymore.
Update 4/2016: We sold the 2009 C300 with RWD. My wife is now driving the 2012 C300 with AWD, which means, more even tread wear. This time it is not a bolt, but a mysterious gash in the front tire of my wife's C300. There is no sign of an impact, such as hitting a curb. Because all 4 tires are relatively new, only new front tires are needed. Luckily, the damaged one is covered by TireRack's Road Hazard warranty. I still pay full price for the other one and the mounting. The installer thinks that it looks "suspicious".
Update 9/2016: A fast leak thanks to this bolt in the right front tire of my Audi A5. These are the factory tires still with less than 5,000 miles on them – no Road Hazard Warranty, unfortunately.