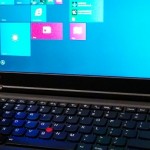 For the past 10 years, the IBM/Lenovo T Series has been a staple of pod's hardware infrastructure. We replace several of the older laptops with the newest models each year, so that most of the time we have the latest two or three generations deployed. Currently we have one T420s, half a dozen T430s, and one T440p. The rest of the team are MacBook fanboys who could not care less about this.
Those who got the new laptops used to be the lucky ones and were envied by the others. There were usually big improvements from year to year: faster processors, better displays, better connectivity, and just a better overall experience working with the device, not to mention the boost in status.
Well, starting with the T431s last year and now the T440 series, this is no longer the case. The people who have to give up their trusted T430s's are dreading it, because the new generation of Lenovo's flagship business laptops has an amazing number of stupid shortcomings – not just one, but about a half dozen. Those who get a new laptop now have to chose between elegant but weak (the S models), or properly configured but with the appearance of a device from 2006 (the P model). Why is that? Let's examine the specifics.
Unlike the T430s,
the T440s does not support more than 12GB of RAM
Remember the statement attributed to Bill Gates: "640K ought to be enough for anybody"? Now it is Lenovo saying, "12GB ought to be enough for anybody! Let's solder a 4GB module in permanently and only provide one additional slot. That will save us a couple of pennies." It is not enough for us. When you run three or four concurrent VMs with client development environments because you are working on one project while you are supporting three others, you need all the RAM you can get, and that is 16GB on the T430s. It is hard to upgrade to less and get excited about it.
Unlike the T430s,
the T440s does not have an optical drive and no bay for a 2nd hard drive caddy
Who needs more disk space if you can install a 1 TB SSD, you may say? It's not about the space, stupid. It is about flexibility. I upgrade my laptop every 1-2 years and have come to appreciate that I can take my data disk out of the old machine and just plug it into the new one, with all my VMs, Outlook data files, SQL databases, and what have you. Then I just install Office and the development stack and I am good to go on the new hardware while I still have a clean new OS. Alas, the T440s no longer has a drive bay. Granted, the optical drive was paperweight that nobody actually used, but it served as a placeholder for a big, fat SSD.
T440p reminiscent of the T60
So what to do if it is your turn to order a new laptop and a T440s is out of the question? Get a T440p, of course. It takes 16GB of RAM, has a drive bay, and should be at least equivalent to the T430s, no? It is better of course, for the most part, except that it looks like a laptop built in 2006. Thicker, heavier (subjectively, as I don't actually remember the weight of the T60), but with a full-HD display.
T440p supports 16GB –
but you can only order it with 4 GB or 8GB
So here you are, on the Lenovo website and trying to configure your T440p with the best and greatest components. But wait! Lenovo only ships 4GB modules? This means you get it with either 4GB or 8GB only, and if you want 16GB you have to throw away the memory that it shipped with? Yes that's right! You cannot order it without memory, nor can you order it with the memory that you want. You can only order it with memory that you don't need and then throw away. Literally. I don't know anybody who has use for a 4GB memory module for a laptop. What are the these guys smoking?
Lenovo only offers configurations with a single SSD up to 256GB
Half so bad, the German-speaking population among my readers will say. Why not order the T with a larger primary SSD and copy your files over from the old laptop? 1TB SSDs are out, cost under $500 already, and should still have enough room for everything, and with the Gigabit connection the copy job should not take more than a couple of hours, right? And as a reward you can enjoy a sleeker and lighter T440s? Not quite. Lenovo for some reason does not give you large SSD drives. The biggest size I was able to order with my T440p was 256GB! I can fit Windows and maybe two VMs on this, out of the 6 that I normally carry around. Lenovo wants you to order a small SSD that you can then throw away and replace it with a bigger one. Or you get a T440p with a paperweight optical drive, order a separate drive bay (but not from Lenovo, no sir, not available), and put in a 2nd SSD.
When I wrote this post I went back to the Lenovo site and double-checked this claim. The T440s would have been available with a 512GB at that time for some reason. My critique remains the same – the lengthy custom-configuration, build-to-order, and ship-from-China process should produce better outcomes, and parts should not be randomly unavailable.
Standard OS Windows 8 64bit cannot be added to a domain and is not upgradeable
Maybe this is not a new issue and I just never ran into it with previous versions (but I think I would have, and this is new). The included version of Windows 8 64bit (the one that you are not charged extra for) cannot connect to a domain. That's right! Out-of-the-box, Lenovo's top-of-the-line business laptop is useless in a business environment, and it cannot be upgraded to Windows 8 Enterprise (because Microsoft does not allow it).
So what does the trusty admin do? Format the drive, erase the Windows that you paid Lenovo for but can't use, and start from scratch with something that you already have, namely a Windows 8 Enterprise volume license. Half a day wasted right there.
No dedicated mouse buttons
I had major concerns about this one, but it turned out to not be so bad. The integrated buttons on the trackpad actually work ok for me. I would not go as far as saying "quite well", but they are ok. There is a strip in the middle with some bumps on it, for tactile feedback on which side of the pad you are pressing. I work exclusively with the track point and the experience is very similar to the T430s. I still don't understand why they took the mouse buttons away from us. Hashish?
No more physical buttons for volume and mute:
Use function keys, stupid!
Yes, don't get all upset, they took the volume and mute buttons and replaced them with some hard-to-remember (and impossible to decipher for my weak eyes) key combinations on the keyboard. With the keyboard backlight on, it is impossible to see any key labels.
At this point and after everything Lenovo put me through, I don't even care. Sure, go ahead, make me pay $200 more for less laptop than a year ago.
Accessories cannot be reused – an agonizing slap in the face
Lenovo has put us in a lull – for the past two generations of the T series, the port replicators worked with the new models. And the power supplies worked across at least three generations. Well, sir, time to wake up, Lenovo says. Slap, slap. Reuse your accessories? No, no, sir, no more.  Slap. New spare power supplies, new docking stations, new hard disk caddy form factor. Triple-whammy.
On the upside
Not surprisingly, there are a few good things to report about the T440p, too. The 1080p display is nice (for those of us non-fanboys who are not surrounded by Retina displays all day). The Core-I7 4900MQ with 8 logical cores rocks. Aside from these two things, I haven't noticed much of an improvement from the T430s. Except for the fan coming on a bit too often when the machine idles. But that's an entirely different story.