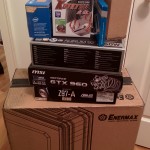 I have been mulling the idea of building a high-performance yet low-power and low-noise computer for a while. My last PC is over 5 years old, the disk drives are even older, and while the Intel Core i5-750 Lynnfield still performs ok, the 8GB memory and the messed-up Windows 7 made a rebuild necessary anyway. German computer magazines routinely publish recommended builds for this type of computer, but often times they use parts that are not easily available here in the US. So I gave up on this plan and finally took the time to do my own research and put something together myself.
Decision-Making Process and Part Selection
I read a lot about the Broadwell processors and liked the idea of getting a fast computer that consumes little power when sticking with the on-board graphics. They came out 9 months ago and have not made much impact on the market, though. I had a hard time sourcing the processor itself and a motherboard that supports it without issues. I could not find a recommended configuration that I felt comfortable not to run into problems, so I abandoned my cutting-edge low-power ambitions and went with a time-tested Haswell processor. For much of this undertaking I was taking shots in the dark, because noise level and power consumption of computer parts are rarely published by online retailers, and reliable data is not often found in customer reviews, either.
So I tried to do my best by going by price first and then trying to find something that I could reasonably expect to work for me. I started with a bare-bones kit on NewEgg and then tried to replace noise-relevant components with ones that cost less and are quieter. I always liked Asus boards and the Z97-A (but only the USB 3.1 version!) seemed like a good choice. Newegg offered a kit with memory and processor for $619 that was about $70 less than the individual parts.
For the power supply I originally wanted to stay in the 400W range, but I was not sure what the GPU would need and did not want to take a change. This is one thing you can change – go with the 450W model from the same manufacturer. The 650W power supply is oversized, which makes it less efficient.
I decided to get a 500GB SSD that should suffice as a boot drive for a long time, and 2TB hybrid desktop drive from Seagate because of the price and reviews.
Most of my parts came from NewEgg. but when something was cheaper on Amazon, I got it from there. My goal was to stay in the $1,000 range. In the end, it was $1,300 because I added the SSD and the Scythe CPU fan. There is supposed to be a $20 mail-in rebate for the GTX 960, but it is not worth my time figuring out how to get. I was able to get all pieces with free shipping.
| | | | |
| --- | --- | --- | --- |
| Function | Part | Cost | Source |
| Case | ENERMAX Fulmo ST ECA3270 Black Steel ATX Full Tower | 89.99 | Newegg |
| Power Supply | FSP Group AURUM 92+ Series PT-650M 650W | 119.99 | Amazon |
| RAM | 4x ADATA XPG V1.0 8GB 240-Pin DDR3 SDRAM DDR3 1600 (PC3 12800) | 618.99 (kit) | Newegg |
| Motherboard | ASUS Z97-A/USB 3.1 LGA 1150 Intel Z97 HDMI | (kit) | NewEgg |
| Processor | Intel Core i7-4790K Devil's Canyon Quad-Core | (kit) | NewEgg |
| Hard disk | Seagate 2TB Desktop SSHD SATA | 84.99 | Amazon |
| Graphics Accelerator | MSI GeForce GTX 960 GTX 960 2GD5T OC 2GB 128-Bit GDDR5 | 179.99 | NewEgg |
| CPU Fan | Scythe SCKTT-1000 Kotetsu Glide Stream | 47.82 | NewEgg |
| SSD | Crucial BX100 CT500BX100SSD1 2.5″ 500GB SSD | 149.99 | NewEgg |
| Total | | 1291.76 | |
Tips for those new to the silent-PC trade: 1. Do not use the Intel CPU cooler that comes with the processor. It is known to be noisy. 2. Go lower on the PSU than what most people tell you. Even the most efficient power supply (I went with 80 Plus Platinum!) does not get close to the advertised rates if it runs at 10% of its nominal load. 400W would have been plenty for this configuration and you only need more if you want two graphics cards or a 5-disk RAID array.
Notes on Components
Case – ENERMAX Fulmo ST ECA3270
This is the nicest case I have owned in nearly 30 years of PC building, and probably the most expensive one, too. I like it for the following reasons:
The power supply is at the bottom while the case fans, power switch, USB and audio connectors are at the top. Why would anybody design a case the other way around?
The mesh design provides for ample airflow and will spread out dust collection over a large surface
Four USB ports (two of them are 3.1) allow me to connect important things without the use of a USB hub
The fan speed control slider is a useless gimmick but it controls the blue LED intensity as well, which is cool
The four (4) 140mm fans turn slowly and quietly
On the other side of the balance sheet I have to note that there is no built-in case speaker – an oddity when you are used to the diagnostic BIOS beeps. I just now saw on one of the Newegg product images that the speaker is provided as an add-on part. I must have missed it – the box with the spare parts is stowed away in the basement now and I will not install the speaker at this point. I also mentioned that the drive bay locks could rattle if you install lively disks. Some padding might be needed there. Other than that, I really like how the case looks and performs.
Motherboard ASUS Z97-A/USB 3.1
There are a couple of things to note about the motherboard. I was used to having an external eSata port (for a hard disk dock) and a Firewire/IEEE 1394 port (for my "old" Sony video camera). The Asus board has neither – it appears that USB 3.1 is it and you better make sure that your periphery supports it. For the money, I would have wanted at least an external eSata port. And, make sure to download the Chipset driver from the Asus site. Windows 10 did not find it on its own and the device manager reported a couple of driver issues until I did that.
Power Supply – FSP Group AURUM 92+ Series PT-650M
The power supply was expensive but is very nice. It appears to be silent. There is enough cabling and Velcro strips for a neat appearance. As I already mentioned, it is important to understand that the 80 Plus certification only measures efficiency at 20% load and up. My PSU will run at 8% load for most of the time, and it is anybody's guess what the efficiency of my nice and expensive 80 Plus Platinum PSU might be at this load level. So this was not a smart buy and some money could be saved here.
CPU Fan – Scythe SCKTT-1000 Kotetsu
A word of caution – do not try to fit this CPU cooler into a smaller case. This is a big case with ample width, but the CPU cooler is so high that it fills almost all of the available lateral space. The picture below does not really show this.
Power Consumption & Noise
So far I have been pleased with the result. The computer is not silent but much quieter than my old one, and the power consumption is around 40W when doing Word processing or browsing the Web. That's no new record, but I ended up putting in a graphics accelerator even though the onboard GPU could handle most of my needs. Without this, it would consume half that Wattage. I am comfortable with leaving a computer on all day if it consumes only 40W.
| | |
| --- | --- |
| Power reading | Operating notes |
| 80W | Bios setup, low front fan speed |
| 85W | Bios setup, high front fan speed |
| 63W | Bios setup, onboard graphics only |
| 42W | Windows, text processing, browser |
| up to 155W | Metal Gear Solid V: The Phantom Pain, in highest resolution |
| 0.4W | Sleep |
The computer is quiet in all operating modes, even in the game, but it is not silent. I was concerned about the drive mounts that rattle a bit, but the Seagate drive has been quiet so far. I put my old DVD writer into the case as well and I believe that some of the noise during operation comes from the case. I rarely use the drive and this is not a concern. The case has two front fans that are not controlled by the motherboard but by a slider on the top. On the lowest setting, the fans turn really slow and are noiseless. The two other case fans at the top, together with the CPU fan, can easily handle the cooling of this setup.
For good measure I installed good old SpeedFan. It seems like the cores are just chilling and the fans are running at well below 1000 RPM during normal operation, i.e WordPress editing in IE11.
Performance
Subjectively, this configuration rocks. I also upgraded to a Dell U3415W, a beautifully curved 34″ wide-screen monitor as part of this, and I suspect that some of my excitement can be attributed to that, and some other part to the upgrade to Windows 10. But everything is really responsive and fast. I have an SSD-only Core I7 laptop with 16GB memory for work, so I am used to the high-end experience, but the T440p cannot compete with the performance of this new home computer. It boots in seconds and zips along nicely after that. Data transfer rates are adequate.
When I copied a few VM images from the old machine, the network speed was close to the theoretical maximum of the Gigabit port. I have not seen this before on another computer.
The internal hard drives can easily keep up with this, of course. When copying large files between the hybrid and the SSD I get around 200MB/s which is what I expected. The SATA express ports would support 10 Gbit/s but the SSD does not, but I don't have a source that would get even near this speed for a file copy operation.
This is not a meaningful test, though, because transfer speeds are always limited by the SSHD. Only a test tool can measure actual transfer rates from RAM to disk. HDTune to the rescue.
These are middle-of-the-road results that don't blow me away, but then, neither the SSD nor the SSHD are performance devices. The motherboard has two SATA Express ports – I should have looked for compatible drives but quick searches on Amazon and Newegg did not find any. I am not sure if they even exist.
Hardcore gamers will laugh at the GTX 960 which is now considered an entry-level graphics accelerator, both in price and performance. I find it more than adequate for my needs and I am questioning my decision to not leave it out entirely. But it came with Metal Gear Solid V: The Phantom Pain, a truly impressive game that is absolutely playable on this machine at a consistent 60fps and with the following (default) settings:
The Windows Experience Index used to be a meager 5.9 on my old machine and went up to 8.1. Given that the maximum achievable score used to be 7.9 under Windows 7, this is quite remarkable.
Final Verdict
I believe I put a configuration together that is worth repeating. The SkyLake processors have been announced but are not available yet in quantities. While this might change over the next months, the Haswell i7-4790K is still the fasted Intel desktop processor on the market. Getting that and 32 GB of memory into a reasonably quiet machine for $1,300 is more than I hoped for. The PC is not an energy hog and can be expanded nicely with higher-end graphics accelerators and faster drives. You can leave out the GPU altogether, get a smaller power supply, or larger and faster drives. This is a fine basis for going into either direction – more high-end or more low-energy.