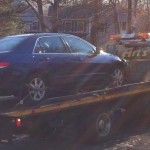 [Visit the Facebook Group]
So we joined the ranks of people who own a 2003 Honda Accord with a broken transmission. As of 3/4/2009, Carcomplaints.com listed close to 200 similar cases, and it is safe to assume that there were many more who have not found that website, but paid the $3500 that it costs to have the transmission replaced. The damage to Honda's reliability reputation must be devastating already, but no recall has been issued.
Initially, we did not feel quite ready to spend this kind of money, either. I thought that maybe a new transmission was not really needed. Given today's market conditions, $3500 pays the lease for 3 to 4  years for a comparable car, and the Accord has already been costing thousands in repairs over the past 2 years.
I was especially frustrated because I suspected there was something wrong with this transmission from day one. The moment of hesitation that we always noticed before the transmission shifted from first to second gear was probably related to the failure (the transmission recall in 2004 was certainly related to the failure, but was designed to minize cost and liability, not to permanently resolve the issue). I had brought the car in after only a few months of driving in 2003 because of the odd characteristics of the transmission, but I was ridiculed and sent home again.
Here is a history of related events:
| | |
| --- | --- |
| 1/3/2003 | Purchased the car at a local Honda dealer |
| 7/28/2003 | Took the car to another local Honda dealer where a service technician drove it and determined that there was nothing wrong with the transmission (at 11,000 miles) |
| 9/21/2004 | Transmission recall, Honda dealer installed oil jet kit, transmission was not replaced |
| 9/30/2008 | Transmission service at Honda dealer (at 111,000 miles) |
| 2/13/2009 | Transmission failed on I95, shifts into first gear only, no reverse (at 120,000 miles) |
| 3/3/2009 | Transmission fluid replaced, old fluid was very dark |
The car seemed to drive fine when the transmission was cold, but when it warmed up after a few minutes of highway driving,  the transmission would down-shift violently into first gear, regardless of the current speed. My wife reported the smell of 'burnt rubber' in the car after such a forced down-shift. This seemed to be quite dangerous. Once this happened, the transmission would fail to shift into anything but first gear.
Honda apparently lost a class action for the 2000/2001 Accord and other models in 2006. I was unable to find any current class action initiative that includes the 2003 model year. If you are an attorney who is willing to work with me on a class action against Honda USA, please contact me at . If you have similar transmission problems with your 2003 Accord, please contact me as well, or post your complaint on Carcomplaints.com as well so that there is a record of it.
Regardless of what you are planning to do, you should file a complaint with the National Highway Traffic Safety Administration – they can force a recall if there is a sufficient number of documented issues.
3/22/2009 Update: We had to make a decision and decided to replace the transmission. Our side of the bill: $2200. Honda paid $900.
4/1/2010 Update: The NHTSA website today lists 328 complaints for the 2003 Accord and 188 for the 2003 Odyssey that describe transmission problems. A search does not show a current or past defect investigation for this problem. It is not documented what criteria and process the NHTSA uses to prioritize their work, but safety does not seem to be a factor. Instead, it seems that the NHTSA works on those problems first that pose the smallest financial risks to auto manufacturers. For instance, the February 2010 report lists a defect investigation for the 2003 Accord about a problem with the ignition switch (park/shift interlock). There are 11(!) complaints on file for this type of issue, and yet, the NHTSA chose to investigate it. Replacing an ignition switch is inexpensive, compared to the cost of replacing an automatic transmission.
People will die from a failing Accord transmission, or already have. Honda should be prepared for the same disaster that Toyota is going through right now. Apparently, neither authorities nor car manufactures can learn from past mistakes, and since nobody will be held accountable, why should they?
1/8/2011 The New York Times publishes an article about transmission problems on Honda vehicles
11/16/2010 Update: The NHTSA has issued a recall for the 2003 Accord because of the ignition switch problem that I mentioned above. Kind of funny, actually …
5/23/2011 Update: The number of comments added to this blog post every month keeps rising – a sign that the rate of transmission failures is rising?
2/14/2013 Update: It is now clearly visible from the updated chart below that the number of incicents peaked late in 2011 with almost 30 posts per month and has now decreased to mere noise. If you are having this problem as late as 2013, you will be just a blip on Honda's radar screen.