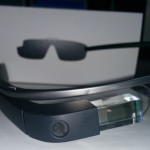 Recently I became a Glass Explorer. I joined the ranks of Explorers rather late, and all the Unboxing, Using, How-to, etc blog posts and Youtube videos have already been posted. Let's take a look at the device's practical relevance in everyday life instead. Is Google Glass ready to go to market?
I believe I have Glass V2 because it came with an ear bud, but the USB driver on my computer reports it as Glass 1 in the list of devices. So I don't know what I have, and I don't care enough to investigate.
While running around in public with Google Glass still prompts interested questions from strangers (Are you wearing this "computer" on your head?), I try to avoid situations where this can happen, by taking Glass off before I enter a restaurant, for example.
There are rumors that Glass will be sold to consumers as soon as next spring, though. Given the price tag and the somewhat mixed real-life experience that I have had with the product so far, I think the time is right for a practical and critical look at what Glass can be and can do for a regular consumer who can no longer rely on being an early adopter as the only justification for the purchase.
When I made the decision to spend $1593.75 (including shipping) I had expectations for what I could use it for. Here is a report on what those were, what other uses I discovered, and how Glass fared in regard to each use.
A better action video camera?
I don't own a GoPro, but my 12 year old son does.  I don't like to borrow things from my son. I do own a $50 bullet camera that I attach to my helmet with a strip of Velcro during bike rides, just in case I need evidence in court of someone's poor driving skills. This solution has limitations, though. It has poor low-light capabilities, and battery life is limited to approx. 1 hour of recording time. Getting the field of vision right is a gamble and it will often capture either the side of the road or the asphalt, but not the road ahead and the traffic around me. The biggest limitation is that I have no way of operating the camera during my ride or of telling what it does.
I had high hopes for Google Glass to be a replacement with better battery life, better image (because of the wide-angle lense) and better operability (because I see what it records and can pause it etc).

The verdict: Glass fails in this category. The battery life is even shorter (30 minutes tops with a full battery right off the charger). I can wear it under my aero-helmet, but not without feeling pressure
on my ear and the front touching the visor. There is no access to the touch bar. On a regular bike helmet, this works better. In both cases I cannot adjust the field of vision and because I naturally have my eyes on the road in front of me, it would need to ability to adjust the view upwards to record the traffic ahead.
The short battery life when recording video is a killer, though, and with no more than 30 minutes of available recording time, this is a no-go on even the shortest bike rides or runs. The low-light capability is not great, either, and on my night runs with a head light there is not much to see on the resulting video.
It does not fit under or over ski goggles, and the clear or active shades do not replace goggles (too small and too much draft that will tear up eyes at higher speeds).
An in-vehicle or dashboard camera?
A camera that reliably and continuously records what happens around me when I drive would be great. Glass is promising, because it captures my field of view, including the rear view mirror, but it is not reliable and cannot record continuously. When plugged in, the battery life would be no issue, but there is currently no app that records continuously (and overwrites earlier clips when memory runs out). Also, the display is always on when it records video, which is bothersome at night.
With a little bit of practice it is possible to wake up Glass and get into video recording mode in a matter of a few seconds, but that is not fast enough in unexpected situations.

My verdict: I think that the device has potential in this category with the right software. Currently it is limited.
A better run/ride tracker?
I saw that Strava has Glass apps even before I placed my Glass order, and I uploaded my entire workout history from Garmin to Strava in anticipation of using their apps with Glass.

The verdict: Glass fails in this category, but my reasoning requires explanation, because admittedly this is the fault of my Nexus 5 and not so much the fault of Glass. Glass relies on the GPS sensor of the phone, and the Strava app only works when the phone is paired. Unfortunately my Nexus 5's GPS sensor data appears to be very inaccurate.  When I started a "Run" on Strava while walking the dog, it placed me some 50 yards away from the road that I was on.
I will continue to depend on the good old Garmin 305 in the coming years.
In addition to issue with GPS accuracy, I don't take Glass on runs because I sweat a lot from the head and both the power button and the bone-conduction speaker would be exposed and allow sweat (or rain water!) to enter the device. I can still operate the slider when Glass is wrapped into a sandwich bag, but the aesthetics and the hassle of wrapping it make me leave Glass at home.
A better headset?

A resounding no here. The bone conduction speaker vibrates and tickles behind my ear. Having longer conversations on Glass is uncomfortable. The sound quality is moderate at best, and many times there is some kind of mechanical obstruction that causes strong distortions, to a point where I cannot understand the other party. I keep my Glass clean and protected, so I am not sure what causes the distortion. Maybe a tiny dust particle is all it takes.
The ear bud speaker that is now included with Glass is too cumbersome to deal with for me. Glass is already bulky and in the way when you take if off because you can't simply fold it and put it in your shirt pocket. Now having something dangling on a USB cord attached to Glass is a non-starter. I have not even taken the ear bud out of the box yet.
A hands-free smart phone controller?
Being able to control important features of your phone without actually having to look at it or even hold in your hand is a compelling feature. If you use Gmail and Hangouts exclusively, you are being well-served by Glass. You will be alerted by and can read instant messages. and respond to and write instant messages and emails by using the voice recognition that works pretty reliably for me.
I don't seem to be able to create emails from scratch, only instant messages to one of up to 10 contacts. I do see emails in my Gmail inbox, though. They appear as a new slide in the timeline and I can respond to them without ever touching Glass. This is pretty cool.

The verdict: Unfortunately, I use neither Gmail nor Hangouts, and I frankly don't get Hangouts. I cannot access emails on my company's Exchange server or my personal IMAP service from Glass, and while I have over 1,000 contacts on my phone, I only see 14 contacts on Glass. This pretty much renders Glass useless as a communication device.
A better navigation device?
I really like the way navigation works. I have one car with a built-in navigation system and will not use Glass there – it certainly does not compete with the Mercedes Comand System. In my other car I do not have a navigation system at all, and previously I had to meddle with the phone when I needed directions. This works so much better on Glass.

My verdict: Navigation is definitely a compelling use of the product, in the car as well as on the bike or on foot (even though Google Maps lacks trail data). Based on some recent incidents that made national headlines, it appears that there is currently doubt among law enforcement officers whether using Glass while driving is legal and safe. I can attest that it can be surprising and distracting when Glass comes to live in full brightness during a night drive to alert you of an upcoming turn, but I don't find it all that different from having a GPS device in the car that is on all the time.
A better music streaming device?
With access to Google Music and completely hands-free operation through voice-activated searches, Glass offers yet another compelling use.

My verdict: Exciting possibilities, but currently we have to compromise on either poor audio quality or complicated handling/wiring of ear buds. The mono ear bud that comes with Glass is, well, mono only; stereo ear buds are available for an extra $85, and my ears aren't made for ear bud-type headphones anyway. They tend to hurt and fall out, and the same is true for the ear bud that came with Glass. Overall, I am somewhat indifferent about Glass' current usefulness as a music streaming device.
Other uses?
Glassware can be installed from the phone or the computer. The current selection of applications that work with Glass is limited (I just counted 35), which I find surprising, given how long Glass has been available to the development community already.

My verdict: The speed of adoption among application developers seems to be slow and the number of available applications is small. I am confident that this will change. Still, no more than a null-vote on other uses at this time.
A mature and well-tested device?
I run into odd and unexpected situations with Glass almost daily that require some tinkering to figure out. Examples?
The on-head detection is flakey and sometimes shuts off Glass unexpectedly. I figured this out myself and the chatter on the Explorer forums confirmed my diagnosis. I just disabled this feature entirely.
The "Ok Glass" command stopped working on the 3rd day. I had to do a factory reset to get it back.
When I did a factory reset, it took several attempts and an uninstall of the MyGlass app on the Nexus 5 before I was able to pair them again. Glass would just not get into pairing mode.
Currently, phone calls or navigation don't work while on a Wifi connection, even though I am paired and connected with the Nexus 5. There is no way to "disable" the wireless connection temporarily. You have to make Glass "Forget" the connection to make a call and then recreate it. The phone reports the Bluetooth profile "Phone Audio", not "Headset" as one would expect.
I am perpetually confused by what contacts I get to see on Glass. I understand that I can add up to 10 contacts from my phone that will show up on Glass as separate slides. So far I added 5 contacts. When I want to make a phone call, I am presented with 14 contact choices, though, the same people that appear in my Hangouts on Google. With half of them I have had no contact in years and I don't have the slightest idea how they ended up there.

My overall verdict:
The head-mounted display and its possibilities are exciting and an indication that this technology will become pervasive in the very near future. But Glass appears to still be an experimental device that does not excel in any particular discipline, comes with a high price tag, and that non-techie consumers will struggle with. The short battery life severely limits its practical use and spoils the fun.