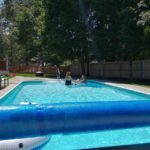 My 16×32 inground liner pool was built in 2006 and came with a Hayward EC65 filter. When the system works, it is great. For the first five or six years, I had no problems. I back-washed a couple of times per season, and in between it ran fine for weeks.
Today, this is no longer the case, We are on the third EC65. Most recently, I replaced it 2 years ago when we had a flow problem that I just could not resolve in any other way. Buying just the nest with the grids makes no financial sense, because a whole new filter costs much less than this part. As soon as I inserted the new nest into the old bottom, it worked fine again for the rest of the season. I did not bother trying to understand what had caused the problem the last time.
Now it is back. This summer we opened the pool on time over Memorial Day weekend, but because we had such a cold and rainy spring, nobody felt like using the pool until late June. At about that time, the flow problem started again. I noticed that by the time I came home from work on Monday, there was almost no flow with the pressure gauge well above the red needle, after I had just taken the filter completely apart and cleaned it the day before. Bumping, cleaning, back-washing went on for a couple of weeks, until I decided that I needed a fix, because we are about to leave for a multi-week vacation, the house sitter does not know how to keep the system going, and the guy I hired to check on things once a week would be too expensive to come here on a daily basis.
There are many posts in various pool forums online from people who have this same problem, but nobody posts solutions. "Experts" try to reduce every problem to the two causes that they know (algae or not cleaning the filter). I had to get to the bottom of this myself. To make the long story short, I don't have a definitive fix, but I think I am on to something.